---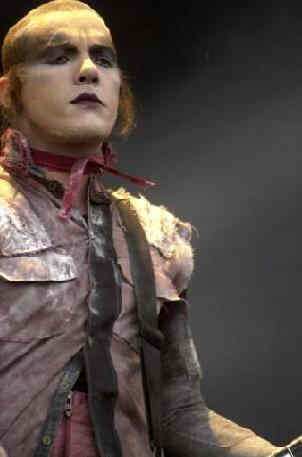 As one of Trent Reznor's most consistent musical partners, Robin Finck has become famous for appearing clad in black, covered in mud, with his dreadlocks tied back. However, during Nine Inch Nails' frequent periods of inactivity, he has become associated with a number of critically acclaimed projects.

Born on November 7, 1971, Finck took up the guitar at an early age, appearing in several unsigned local bands, before replacing Richard Patrick in the touring lineup of Nine Inch Nails. Finck's first appearance with the band was on the mammoth Self Destruct tour, including their acclaimed performance at Woodstock II. When the your eventually wound down, Finck signed on as musical director for Cirque du Soleil, a position he occupied for nearly two years.

With no new Nine Inch Nails product in the pipeline, Finck joined the reincarnated Guns'N Roses in 1998. Although he contributed to a number of tracks and was publicized as a full-time member, the album was delayed several times, and Finck returned to Nine Inch Nails for the Fragility tour. Since then, Finck has made several live appearances with Guns N' Roses and will appear on the forthcoming Chinese Democracy album. He is also involved with the eponymous debut album from Impotent Sea Snakes.
Influences: Jimi Hendrix ,Eddie VanHalen,Chet Atkins,Eric Clapton,Jeff Beck

Equipment: Godling Guitar LGX Series
Marshall amps JMP-1 effects ,Custom and Goldtops from Gibson Guitars
CF Martin Backpackers and Acoustic,
Paul Reed Smith Collect Hollow Body II and CE22 with Dragon II
For effects RockTron Vodoo Valve
TC Electronic effects G-Force
Links: www.nin.com The Nine Inch Nails Official Site