---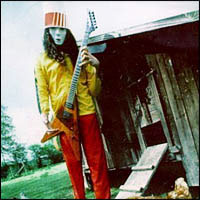 The Buckethead backstory begins with a kid named Brian Carroll growing up in a Southern California suburb not far from Disneyland. He's a shy kid and spends a lot of time in his room, which is filled with comic books, video games, martial-arts movie memorabilia, slasher-flick stuff, all the usual youth-culture detritus. He also spends a whole lot of time at Disneyland.

As a teenager, Brian takes up the guitar, plonking away under the sway of such metal masters as Angus Young of AC/DC; the late Randy Rhoads, of the Ozzy Osbourne band; and Swedish overdrive virtuoso Yngwie Malmsteen. Like the latter two, Carroll incorporates a considerable amount of classical-music consciousness into his burgeoning style. He reads a lot of music theory. He starts getting really, really good.

Unlike his idols, however, Carroll is anything but flamboyant. Mane-tossing guitar-god moves are not something he'll ever be comfortable attempting. In fact, in an ideal world, there'd be somebody else he could one day take up onstage with him and hide behind. Some sort of alter ego.

Nobody much liked the 1988 fright flick "Halloween 4: The Return of Michael Myers." After 10 years, this slasher franchise was pretty much played out. (Even though it's still with us today!) But Brian Carroll was inspired by the film. He went right out after seeing it and bought a Michael Myers-like white mask. Then, that night, as he was eating from a bucketful of take-out fried chicken, another inspiration struck. He described it in a 1996 interview with Guitar Player magazine: "I was eating it, and I put the mask on and then the bucket on my head. I went to the mirror. I just said, 'Buckethead. That's Buckethead right there.' It was just one of those things. After that, I wanted to be that thing all the time."

Unlike the editors of Guitar Player (for which Bucket once wrote a column called "Psychobuddy"), you needn't be conversant with minor 9th intervals or quadratonal arpeggios to be knocked sideways by Buckethead's war-of-the-worlds guitar eruptions. His star-burst chord clusters and eye-frazzling eight-finger solos aren't like much else you'll be hearing on this planet anytime soon.

Of course there are all kinds of aspiring guitar wizards out there (although probably none within pick-flicking distance of this guy). But what sets Carroll decisively apart from the pack is the outré "Buckethead" persona he's so painstakingly created. This character, with its vaguely sinister mask, soberly upended KFC bucket, and absurdly detailed chicken fetish, is pure American surrealism. Buckethead is a star of a strange new kind: not the projection of a preening personality, as is usually the case, but a mirror, a screen, a somehow lovable cipher. As a musical presence, he seems almost (one of Carroll's favorite words) disembodied.

Although most people are probably experiencing Buckethead for the first time in his current stint with the new Guns N' Roses, the man has been putting out solo albums for the last 10 years. Some, like the 1999 Monsters and Robots, are pure "post-metal psycho-shred," as one writer put it. Others, like the just-released Electric Tears, are serenely ambient. Buckethead also records under the name Death Cube K (an anagram); the 1994 Dreamatorium is a good one.

In addition to this solo output, Buckethead has also recorded and performed with a wild array of other musicians, from P-Funk all-stars Bootsy Collins and Bernie Worrell to Iggy Pop, Primus, avant-fusion bassist Bill Laswell and the late Miles Davis Quintet drummer Tony Williams. He's played on three albums by "The Lord of the Rings" star Viggo Mortensen, one by the painter Julian Schnabel, and some movie soundtracks and scores, too ("The Last Action Hero," "Mortal Kombat," "Beverly Hills Ninja"). He longs to do an all-Disney album. ("When You Wish Upon a Star" is one of his favorite tunes.) (source:Written by Kurt Loder ,MTV.com)

Musical Stylings:An accomplished multi-instrumentalist best known for his virtuosic command of the electric guitar, Buckethead is one of the instrument's most recognizable contemporary innovators, his rapid-fire riffing, near-robotic fretwork, and idiosyncratic lead lines combining elements of Yngwie Malmsteen, Adrian Belew, Slayer's Kerry King, P-Funk's Eddie Hazel, and avant-improv artist John Zorn's Scud-attack sax abuse.

Previous bands: Apart f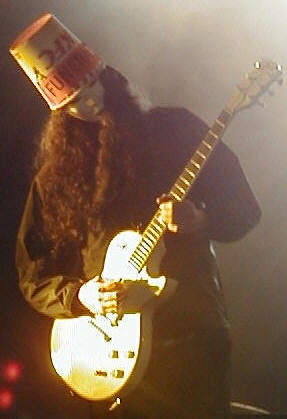 rom solo guitar albums under his own name and the name of Death Cube K(an anagram for Buckethead) his collabarations and bands include Deli Creeps, Henry Kaiser, Bill Laswell, Bootsy Collins, Bernie Worrell, Praxis, Jonas Hellborg, Michael Shrieve, MCM and the Monster, Tony Williams (w/ Arcana), Giant Robot, Giant Robot 2, Primus, Zillatron, Painkiller, John Zorn, Company Week '91, Anton Fier, Julian Schnabel, Insvisibl Skratch Piklz, Michael Kamen, George S. Clinton, Pieces (Buckethead and Brain), Cobra Strike, Viggo Mortensen, El Stew, Ben Wa, Mike Keneally, Iggy Pop, Banyan, phonosychographDISK, DJ QBERT, William Ackerman, Jon Hassell and Bluescreen
Influences: Michael Jackson, Paul Gilbert, Shawn Lane, Yngwie Malmsteen, Bootsy Collins and Angus Young (AC/DC) as major inspirations as well as the experience of playing with Bill Laswell, Bernie Worrell, John Zorn, the Invisibl Skratch Picklz and other artists he has played and collaborated with. He also finds inspiration in books, sci-fi/horror movies and athletes, most notably Michael Jordan.
Equipments:Guitars: Jackson Flying V, Steinberger GS, ESP MII, Gibson Chet Atkins, Ibanez X-Series Flying V, Takamine Acoustic, '59 Les Paul Custom (used on some Laswell-related projects), Gibson SG. '69 Gibson Les Paul Custom (used on the Cobra Strike and Viggo Mortensen projects recorded at Travis Dickerson Recording Studio).
Amplifiers: Peavey Reknown, misc. Marshall & Mesa Boogie heads, a Matt Wells head, Harry Kolbe Cabinets.
Effects: Roland SE 50, Rocktron Intellifex, Rockman, a Zoom multi effects unit, Alesis Midiverb II, A wah wah, Lexicon JamMan, Electro Harmonix Micro Synthesizer, Pro Co Rat, Digitech Whammy Pedal, Misc Toys.
Links: Official site www.bucketheadland.com